Posted by Tellason on 16th Jun 2015
The History and Future of our Cramerton Chinos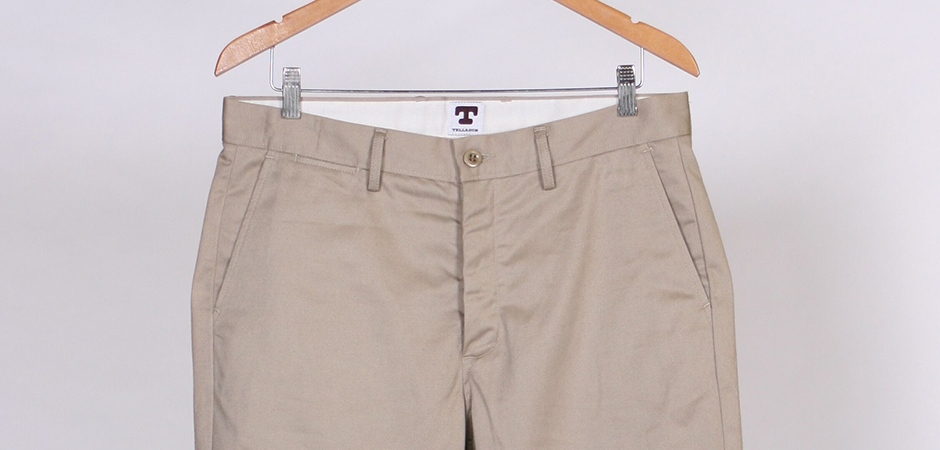 In the Fall of 1983, without knowing each other, Pete Searson and Tony Patella packed their bags and headed south to San Diego State University. High school was in our review mirror. Our new conquest was to explore the privilege of higher learning and the intellectual pursuit of greatness. That, or, to just get out of our small towns and get to college, chase waves and women and attend a class or two.
Our fangs were set deep into popular culture that included everything from the punk rock ethos of the late '70s and early '80s to getting every bit out of being 18 years old and starting an important new chapter, to understanding the value of being able to quote every line of the funniest film ever made, Fletch.
San Diego had one of the largest military presence in the country and there was no shortage of Army Surplus shops scattered all over the county. Luckily, there was one close by SDSU. Its location was perfect, across the street from our local barber, and right next door to a tailor.
Now that we were on our own, we didn't have mom to call on to take us to our local men's and boys' shop for some "Back To School" shopping. Funds were completely limited and it was up to us to figure it out. If the ATM gave us the "insufficient funds" notice at the end of the month, we had to hunker down and do our best to "borrow" food from our roommates or be sure to wear a big jacket at the university cafeteria to grab a few snacks in hopes of not starving until the next check came from Mom and Dad.
Tapered Cramerton Army Cloth Chino
This efficient living, along with coming off a very preppy scene infused with surf culture and a love for vintage military goods, led us to the Army Surplus shops of San Diego. The one by the school was in a small strip mall and had stacks of dead-stock military supply camo and khaki pants. It was the flat front khaki that we had our crosshairs set on, but the stovepipe leg was a real drag. We wanted "pegged" pants. Narrow enough at the bottom to just be able to get our feet through it.
Five dollars later, we were out the door. We walked next door to the tailor and for ten dollars, they took the side seams out and gave these pants the pegged look we were after. I will also never forget the deep curry smell our pants had when it came time to pick them up! The Indian tailor and his family lived in the back of this shop and did all their cooking right there. I had never tasted Indian food before that point and still remember that shop every time I eat that delicious food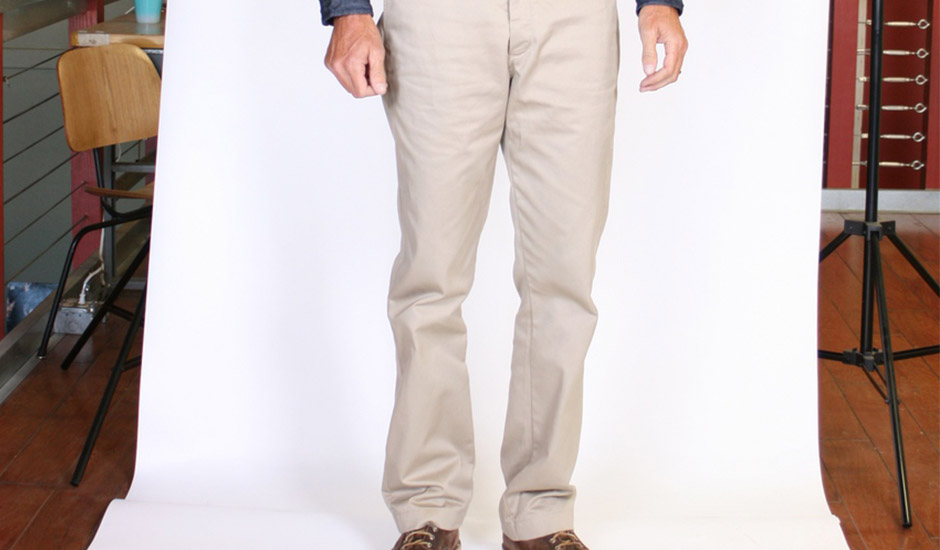 Straight Leg Cramerton Army Cloth Chino
Fast forward to 2015. We are fortunate to realize that the original factory that had the contract to make the durable and beautiful twill that outfitted our troops in World War II is still open for business. We did our research, simply sent an email to their general contact address, and within one hour, received a phone call from their local salesman representing Galey & Lord. He happened to live in the area and 24 hours later, he came by with a duffel bag full of various Cramerton Army Cloth samples and we locked into what we believe to be the best match to our early memories back in 1983 at the great Army Surplus shop next to the Indian tailor.
And today, we are proud to introduce a true straight-leg Cramerton Chino pant as well as a perfect tapered leg. Simple, classic, and very much a part of our story as a brand that stands for well-made goods, made in the right place with respect for where things come from.