Posted by Tellason on 13th May 2015
Indigo Dyed Crew Socks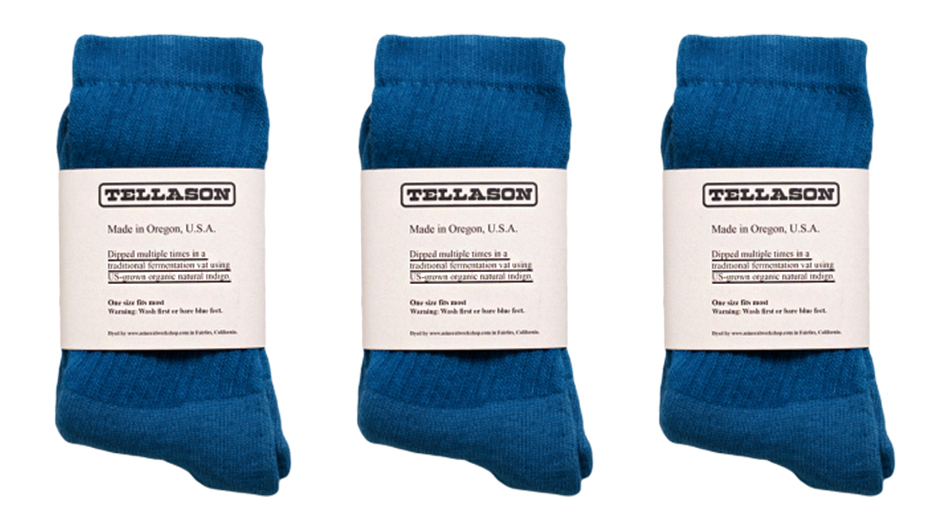 The main thrust of Tellason has been, and always will be, to make staple items in a man's closet that are made locally using the best manufacturing facilities we can find. Disposable fashion has left, and it is with great satisfaction to pursue iconic and durable goods for men that serve a purpose, have a story, and is made to last.
Of course, making blue jeans is the single act that inspires us to work as hard as we do, but as Tellason continues to grow, so does the need to broaden the collection to include additional items that men have worn for as long as we can remember.
Our classic crew sock, for example, is made in Oregon and is individually dyed in Marin County, CA. The sock itself is built for everyday use, but it is the dying process that gives this item clout. Luckily, we happen to have good friends that excel in art, music, photography, etc.
One such friend is Carrie Crawford. She spends her days and life pursuing her art using natural indigo as her medium. Not just natural indigo, but indigofera tinctoria plants grown in her backyard! Carrie's art is dominated by an ancient Japanese dyeing process called Shibori dyeing and whether it be a framed piece centered in your living room or a personally dyed piece in your closet- you know you have something special made by a true artist who is committed to the indigo life.
The Tellason socks she prepares for us are simple enough, but when they arrive, we can immediately see the subtlety of her work and the individuality of each sock. Some would see these socks as just another blue sock. Others would see it as a little piece of art for your feet, especially if they know what they went through to get to this stunning shade of indigo.
Our common ground with Carrie Crawford goes past our mutual love for indigo. We are about the same age, grew up in different parts of the country, and understand the significance of what it was like to live in the world in the 70s and 80s. Punk rock music and all the minerals that went with it shaped each of our lives in ways that heavily play into our daily life today as artists, craftsmen, parents, and friends. Every generation has its root system and it is without question that we feel lucky to experience what we experienced when we experienced it.
We hope to continue to support Carrie and her Mineral Workshop products and know that what may look like another blue sock in the closet is not. It is this underlying knowledge we have in our products that tip on the side of subtlety to be discovered at a later time. All this in an era of fast everything and instant gratification. We are not interested in flashy campaigns and know that what we make has deep connections with the tribe we have formed over the last 30 years of living a meaningful life.